Angels and Shepherds: Christmas workshop with Philip Thorby on Saturday 2nd December 2023
December 2 @ 10:30 am

-

5:00 pm

£20 – £25
Angelus ad Pastores
This year we have invited Philip to tutor our pre-Christmas workshop. Philip has found some wonderful music on the theme of Angels and Shepherds in the Christmas story. There will be music by Christoph Buehl, Hans Leo Hassler, Johann Hermann Schein and Agostini Soderini.
The angels are generally, well, angelic, but the shepherds are revealed as zither-strumming, boisterous and (as depicted by Schein) initially very grumpy at being woken up by the heavenly host.
The workshop will be for voices, violins, viols, cornetts, sackbuts, curtals, recorders and continuo. The pitch will be A440. Tenor viol players/violas please note that most  pieces have octave-treble rather than alto clef parts.
Instrumentalists please bring a labelled music stand.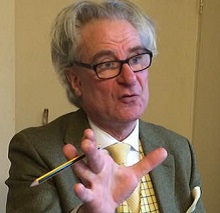 Philip Thorby is one of our most popular and respected tutors. He specialises in early Italian Music. Many people will have seen his wonderful Zoom lectures during the lockdown period, which are still available to watch on this website.
Venue is Solihull Methodist Church, next to the Railway station SatNav B91 1LG. There is a large car park with the entrance in Station Approach.
NB: If approaching from the west along Blossomfield Road, please note that recent road layout changes mean there is no left turn into Station Approach. Either go completely around the roundabout and then turn right into Station Approach, or take the first exit at the roundabout into Streetsbrook Road and then turn left into the opposite end of Station Approach at the traffic lights.
Booking is now closed.
Angels and Shepherds: Christmas workshop with Philip Thorby on Saturday 2nd December 2023