Schütz and his World – with Tutor Gawain Glenton
September 17 @ 10:00 am

-

5:00 pm
This workshop will focus on the works of Heinrich Schütz and his brilliant German 17th-century contemporaries.
Schütz is regarded today as the leading German composer before Bach, but there is still much we can learn about his life and world (for example his first name: he only ever signed himself Henrich). Born in Thuringia in 1582, he received early training at the court of Moritz von Hessen-Kassel before being allowed to study for three years in Venice with Giovanni Gabrieli. This sparked in Schütz a life-long desire to incorporate the sounds and styles of Venetian music into German musical life, a project he would take to great heights during his long tenure as kapellmeister at the court of the Elector of Saxony in Dresden.
Schütz was not the only German composer to be inspired in this way. Michael Praetorius also wrote highly Italianate music despite never travelling south of the alps (thanks to the explosion in Venetian music printing he could educate himself in the latest styles via imported printed editions). Hans Leo Hassler meanwhile made the journey to Venice a decade before Schütz, also studying with Gabrieli.
More broadly, Schütz was just one of many gifted German kapellmeister composers who produced music of great skill and emotional depth in the appalling backdrop of the Thirty Years War which ran from 1618-48. We will also explore large-scale works by some of these, including Hammerschmidt, Staden and Berger.
We invite singers and players of renaissance strings (from the viol and violin families) and winds (in particular cornetts, sackbuts and dulcians). Pitch A=440. Music will be provided, but players must bring your own music stand.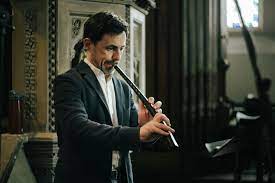 Gawain Glenton is a specialist cornetto player whose work as a soloist and an ensemble musician takes him all over the world and is a member and co-director of  the English Cornett and Sackbut Ensemble.
Booking will open on the 15th August.
Schütz and his World – with Tutor Gawain Glenton