Music by Rosenmüller with Tutor William Carslake
May 21 @ 10:00 am

-

5:00 pm
Following his early career in Leipzig, Rosenmüller spent over twenty years in Venice where he was Maestro di Coro at the Ospedale della Pieta (like Vivaldi after him).  At the end of his career he returned to Germany and settled in Wolfenbuttel.  There is a fine blend of Italian and German styles in these appealing and approachable pieces of sacred music which  show the influence of both Corelli and Schütz.  Before emigrating to Italy in the late 1650's Rosenmüller had already been there briefly in 1645/46 and the trip had a decisive influence on his style.  This can be heard in his two famous collections of 1648 and 1652/3, the Kern Spruchen (Core Sayings) and Andere Kern Spruchen (other Core Sayings).  The word painting is evocative and the  sudden turns of harmony can take you by surprise!  If you don't yet know him you're in for a treat.
We will be studying   "Siehe an die Werke Gottes", "Lauda Jerusalem", "Also hat Gott" and a Magnificat
This is a workshop for Voices and the following Instruments:
One harpsichord and one chamber organ (or electronic organ) at A415  or two harpsichords at A415 and one or two theorbos.  All keyboard and theorbo players need to be comfortable reading figured bass.
Strings with baroque set ups, or modern instruments with gut strings and baroque bows: violins, violas or tenor/bass viols, baroque cellos.
Sackbuts, cornets, curtals and recorders are welcome.
Bill Carslake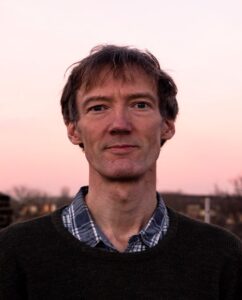 Bill studied singing with David Lowe at Cambridge and Peter Alexander Wilson at Royal Scottish Academy of Music, and orchestral conducting with Martyn Brabbins, Jorma Panula and Ilya Musin. He was a busy bass-baritone before he decided to focus exclusively on conducting and composing. He composes music inspired by outdoor places such as Greenland and is a 2018/19 Finzi Scholar for his current composition project about Mountain Hares. He is Artistic Director of Farnborough Symphony Orchestra and Imperial College Sinfonietta and was Music Director for the Royal Ballet's Elizabeth in 2018 and 2016. He is passionate about Renaissance and Baroque music and directs programmes for EMF forums, Lacock Choral Courses and Benslow Music.  He is a Trustee of the Elgar Foundation.
Music will be provided on the day.
Instrumentalists please bring a labelled music stand.
Please book below and then scroll down to make sure you have succeeded.
Music by Rosenmüller with Tutor William Carslake
Online booking
Use the form below to book places on this workshop. If you cannot see a form, try refreshing the page.
Please note that you will need to pay us separately by cheque or bank transfer – details below.